#SaratogaXCClassic Running Event

Saratoga Cross Country
Classic
Sunday, October 30, 2016
Saratoga Spa State ParkRegister Now & Beat the Oct. 19th Price Increase!
Registration and Info at saratogaXCclassic.com
5k XC
10:00 am
T-shirt for first 300 entries
Special Race Individual & Age group Awards
USATF Age Group & Team Awards
$$$ to Clubs with Most Finishers
2k & 3k Kids' XC Runs
9:00 am
13 and Under
Nike Track Bags or Water bottles for first 350 entries
$$$ to Teams/Clubs with Most Finishers
Place and Finisher Ribbons to All
Prepare for the Assoc & Regional JO meets
Special Kids' T-shirts available for purchase
5k Road Race Walk
8:00 am
USATF and Open Competition
T-shirt Included
Special RW Awards
Don't miss out! Join us for a great day of competition
on one of the most scenic courses in the Northeast!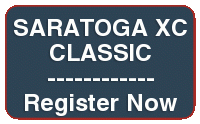 Promoted by FC4 Events –  FC4 Inc. a 501(c)(3) not for profit corporation