Join the crew as a Volunteer!
Volunteer duties include: serving concessions, ushering, taking will-call tickets and helping with general production tasks. Volunteers must show up one hour before doors open. You must provide/send valid contact information including a phone number to [email protected] otherwise your volunteer opportunity will be forfeited. If you'd like to sign up as a volunteer, click the hyperlink above or any event in this email.
For every Volunteer shift worked you'll receive a free ticket to any event of your choice!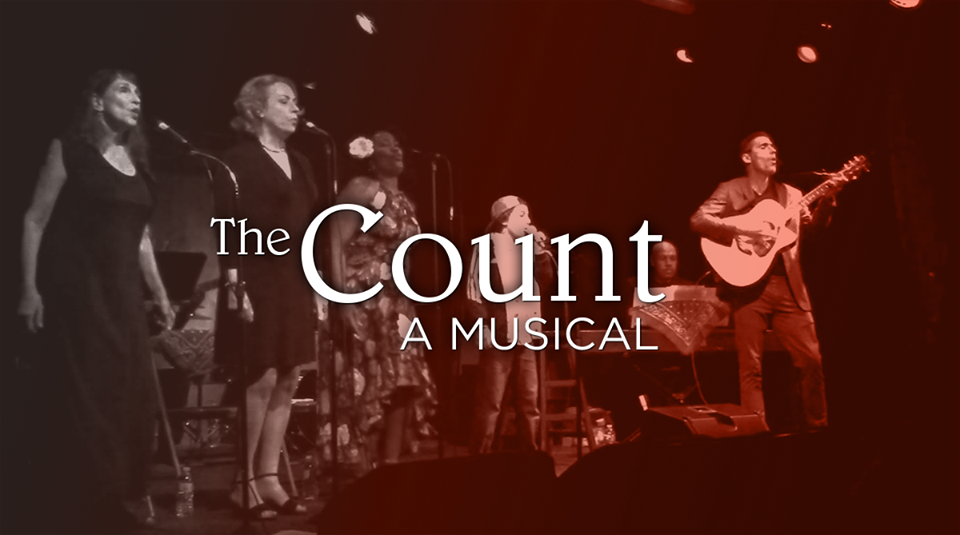 The Count: A Musical
Saturday June 15, at 7 pm
Ray is eight years old when things take a bad turn and he lands in a group home. To make sense of life he gambles compulsively, hustles, and performs music on the streets, dreaming that one day he will find love. He is emancipated at 17 and launches a music career as 'The Count,' finding instant success. But even as Ray enjoys his new fortune and starts a relationship with Ruth, a brilliant young scientist, a choice from his past threatens everything.
Brion Winston, Jeanne O'Connor, Azzaam Hameed, Judy Wyle, Kim Marsh, Daniel Burnison, Peter L. Caines, Sam Madia, George Spencer, Al Brisbane, Riley Brutvan, Willa Winston and Kevin Ruby.
Music and Lyrics by Brion Winston
$10 Advance
$12 At the Door
Alexis P. Sutter Band wsg Jimy Graham
Saturday June 22, at 8 pm
Alexis P. Suter is the owner of that big, booming voice you can hear roaring out of Brooklyn into the heart of North America and beyond. Alexis P. and her band are on the rise as accolades pour in and they continue to captivate audiences from town to town. Miss Suter and her powerful and unique ensemble artfully blend the lines between Blues, Soul, Roots and Rock music. Alexis' voice ranges from a pained passion to explosive and soul bearing. Alexis burst on to the music scene as a regular performer at Levon Helm's legendary Midnight Rambles held in Woodstock, NY. Levon was captured by what he called Alexis' wonderful spirit and had her and the band open for him nearly 100 times. Since then, Alexis continues to be in high demand at North American Roots and Blues festivals, venues and events. She was privileged enough to open for BB King several times at his club in New York as well as Etta James. In addition to being a featured artist in over 50 Blues and Roots festivals nationwide, Alexis and her band have been the opening act for the following artists: Bo Diddley, Trombone Shorty, The Fabulous Thunderbirds, Dickey Betts, Coco Montoya, Buddy Guy, Allen Touissaint, Emmylou Harris, Johnny Winter, Elvis Costello and for the 20 year reunion of the Muddy Waters Band.
http://www.alexispsuter.com/home.html
$15 Advance
$20 At the Door
Rochmon Record Club Listening Party: The Monkees "Greatest Hits"- A Selected Retrospective
Thursday June 27, at 7:30 pm
The Rochmon Record Club will converge to listen, learn about and discuss The Monkees "Greatest Hits" – A Selected Retrospective. Hey! Hey! The Monkees had 6 Top 5 hits from 1966 to 1968, 3 of those #1 singles! The Monkees, driven to mass popularity by their Monday night TV Show on NBC, recorded songs written by the best songwriters around at the time. Beginning on September 12, 1966 an entire generation was raised to the antics and music of the lovable American Mop Tops, Mickey, Davey, Mike and Peter! The Listening Party begins at 7:30 pm with a live audio & video presentation by Chuck Vosganian aka "Rochmon". A Rochmon Record Club Listening Party is meant to inform and deepen our understanding of the history of the individual performers, the songs and the stories that made this iconic album.
https://www.facebook.com/RochmonRecordClub/
$10 Advance and At the Door
Paa Kow and his Afro Fusion Orchestra
Saturday June 29, at 8 pm
Having toured internationally, sharing stages with both African and American luminaries including Kojo Antwi, Amakye Dede and Victor Wooten, Ghana born drummer and composer, Paa Kow, (pronounced Pah-Ko), has recently produced his third studio album entitled "Cookpot." The album takes listeners on a journey that boldly explores the music of the African Diaspora by fusing Ghanaian highlife with elements of jazz, funk, and African pop to create his unique Afro-Fusion sound set apart by its "flexibility and finesse" (Modern Ghana). Dubbed "Ghana's most artistic drummer" (Modern Ghana), he has since grown to be widely recognized as one of the most remarkable drum set players to tour in Africa, Europe, and America. Paa Kow's deep groove and prodigious talent reveal a unique ability to speak to listeners with his drums, inspiring a profound spiritual conversation. His songs are captivating and danceable and incorporate lyrics in his native language, Fante, as well as English. Paa Kow's vision is to spread the music and culture of his homeland by touring the world with his Afro-Fusion orchestra.
$15 Advance
$20 At The Door
An Evening with Tinsley Ellis
Sunday July 28, at 8 pm
Since his Alligator debut 30 years ago, Southern blues-rock guitar wizard, vocalist and songwriter Tinsley Ellis has become a bona fide worldwide guitar hero. The Chicago Sun-Times says, "It's hard to overstate the raw power of his music." Now, he makes his triumphant return to Alligator Records with a powerful new album, Winning Hand. Armed with his signature molten licks, melodic riffs and rousing, intense solos, Ellis, as his legions of fans will attest, is among the blues world's best-loved, hardest working and most well-travelled statesmen. He has performed in all 50 United States as well as in Canada, Western and Eastern Europe, Australia and South America, earning legions of fans with his guitar virtuosity, passionate vocals and memorable original songs. Over the course of his career, Ellis has shared stages with Stevie Ray Vaughan, Otis Rush, Willie Dixon, The Allman Brothers, Leon Russell, Son Seals, Koko Taylor, Albert Collins and many others. Whether he's on stage with his own band or jamming with artists like Buddy Guy, the Tedeschi Trucks Band, Gov't Mule or Widespread Panic, he always plays with grit, soul and unbridled passion.
$25 Advance
$30 At the Door