WHAT WILL IT INCLUDE?
The third annual Trekonderoga event will take place on the weekend of August 25-27, from Friday afternoon through Sunday afternoon. It will be held in Ticonderoga, New York, on the banks of Lake George and Lake Champlain. Trekonderoga – 2017 will again show its special nature as a small, intimate setting where you can meet stars and participate in events up-close, all in a beautiful and historic setting in the Adirondacks!
As with all events similar to Trekonderoga your paid admission entitles you to:
Admission for all three days of our activities.
Full and free access to the Celebrity Autograph room including Walter Koenig and Nichelle Nichols (celebrities charge an extra fee for their autographs).
All panels and presentations.
Access to the vendors and vendor space.
One Tour of our meticulously recreated Star Trek sets.
Celebrity Question & Answer Panels.
Starfleet Mess Dress Dinner with the Stars
Trekonderoga is happy to announce our Starfleet Mess Dress Dinner! On Friday night (August 25, 2017) join us in your Starfleet uniform for dinner and fun! Mingle with celebrities and your fellow Trekonderoga fans to kick off this year's event. This year will include a doorprize and a very special video presentation. Hosted by our favorite funny guy, Shyaporn Theerakulstit. Costumes are optional. Come as you are and join in the fun!
This wonderful dinner event will be held at the Ticonderoga Best Western Motel. Doors open for cocktails at 6:00, dinner is at 7:00, entertainment starts at 8:30. Cash bar.
Saturday Night Concert! This year we are again pleased to present our special Saturday Concert.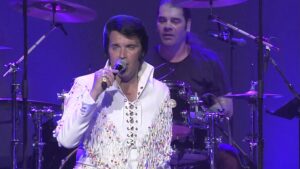 On Saturday night, James Cawley, the man who created the Studios and the Trekonderoga event, will be doing his top-rated professional Elvis impersonation music review with his band, The American Longboards. This event is open to the public, and tickets may be purchased by clicking the button below.
James Cawley has been ranked the Number 1 Elvis impersonator in the USA by a committee of Elvis fan club presidents out of 2500 contestants. His amazing resemblance to "The King" in appearance, mannerisms, and voice have also earned finalist status in the Worldwide Elvis impersonator contest. His show allows the audience the chance to relive the excitement of having seen "The King" in person.
Over the past 22 years, James' shows have ranged from full-blown Las Vegas style shows with 15 musicians, female dancers and The Jordanaires (Elvis' original backup quartet) to mid-sized shows with the "TCB Band" tailor-made for small venues. He has appeared at sold out shows in theaters and casinos across the country at such places as: Tropicana Casino, Atlantic City; Claridge Casino, Atlantic City; Legends in Concert, Las Vegas; Gatlin Brother's Theater, Myrtle Beach; and many, many, others.