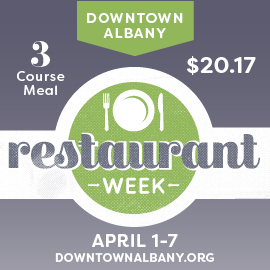 A FEW MORE CHANCES

17 restaurants. 3 courses. $20.17. Yum. Downtown Albany Restaurant Weekends Friday (La Serre and Olde English are extending the event thru Saturday). Don't miss out on this delicious deal, and the chance to dine on everything from Chicken Tortilla Soup to Mixed Berry Tart. View menus.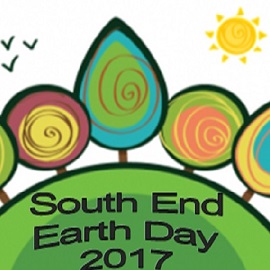 EARTH DAY CLEANUP

Join Downtown Albany BID staff and community volunteers in taking part in South End Earth Day (SEED) on April 22. We will meet at the Albany Coliseum (153 S Pearl Street) for the cleanup of Madison and S Pearl areas from 10:00 AM – 1:00 PM. After, stay for music, free food, and a bounce house from 1:00 – 2:00! Learn more.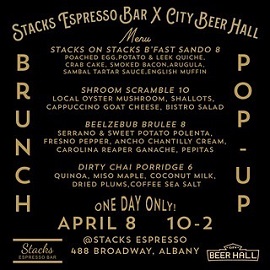 DROOL

What do you get when you combine City Beer Hall and Stacks Espresso Bar? Deliciousness! The two are collaborating on a brunch at Stacks on April 8 from 10:00 AM – 2:00 PM. Stop in and try the Shroom Scramble, Dirty Chai Porridge, and more (+ coffee!). Learn more.
488 Broadway | 518.599.0411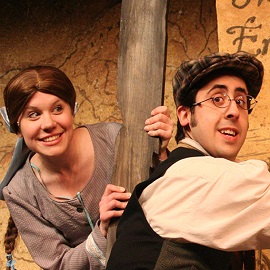 ERIE HOW TIME FLIES
This year marks the 200th anniversary of the Erie Canal groundbreaking, and in commemoration theREP will stage They Built America: The Workers of the Erie Canal on April 8 at 11:00 AM. It's perfect for families, too! Tickets $9-$11. Learn more.
111 N Pearl Street | 518.445.7469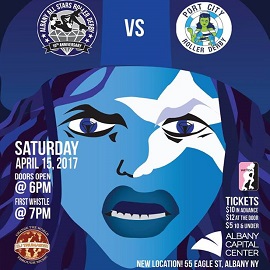 THEY SEE ME ROLLIN…

The Albany All Stars Roller Derby will open their 10th season at the Albany Capital Center on April 15 at 7:00 PM. They'll take on Port City, who are currently ranked just eight spots above AASRD so you're sure to see some exciting roller derby! Tickets $5-$12. Learn more.
55 Eagle Street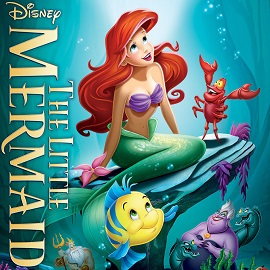 PART OF YOUR WORLD

Calling all families – and really all Disney fans! The Palace Theatre will show the movie The Little Mermaid on April 18 at 1:00 PM. A mermaid princess makes a bargain with an unscrupulous sea-witch in order to meet a human prince on land. Tickets $5. Learn more.
19 Clinton Avenue | 518.465.3334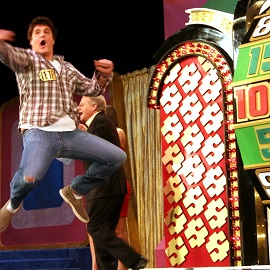 COME ON DOWN!

Love watching The Price is Right on TV? Well, come on down and see it live right here in Downtown! The Price is Right Live comes to the Palace Theatre on April 20 at 7:30 PM. You might just get to play Plinko, Cliffhangers, or another game. Tickets $32.50 – $92.50. Learn more.
19 Clinton Avenue | 518.465.3334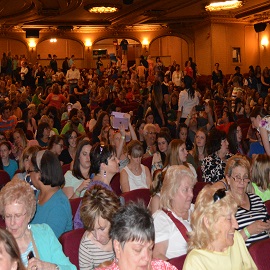 ALIVE AFTER 5

This is just a sampling of what's coming up. What else can you experience? Trivia, open mic, storytelling in a pub, world-renowned artists on exhibit, Broadway quality theatre, 90s house party, and so much more. Check out the full event calendar right here – and we'll see you Downtown!
Oh, and lest we forget about the FREE parking available. Check out details here.
Video | Lashes for Days

Take a minute – almost literally! – and check out Salon 109's Mary Delaney Shaw as she demonstrates the eyelash perm and tint, one of her most popular services. The salon is located at 109 State Street.

Watch video on

Facebook

or

YouTube

.
Suggestions for CDTA Bike Share Stations Sought

CDTA is seeking suggestions on where to place bike share stations. Decisions on rack locations will be guided with your feedback, along with the following criteria: available space, pedestrian traffic, population density, bike infrastructure, and transit options. Voting ends Sunday, April 30 at 11:59 p.m. Learn more.
Nominations for Inaugural Henry Johnson

Award Sought

This year, the City of Albany will be presenting it's inaugural Henry Johnson Award for Distinguished Community Service on June 7th. If you know an Albany resident who has made meaningful contributions to our community in arts and history, social justice, education or volunteerism, please complete the following form. All nominations are due by 5 p.m. on Friday, April 14, 2017. Learn more.
Albany Will Receive $12.5 Million in State Aid

As the mayor has been requesting for months, the sum is new money and not a "spin-up" of future "payments in lieu of taxes" on the Empire State Plaza — the PILOT mechanism has been used many times in the past when the city sought additional state aid. Learn more.
Albany Murals Greet Convention Center Visitors

As out-of-towners sweep into downtown Albany for conventions at the Capital Center, they might find themselves with a little spare time to see the sights. If so, they can oooh at Cohoes Falls. Ahhh at the tulips in Washington Park. Crane their necks and gawk with wonder, or perhaps confusion, at The Egg. Learn more.
Video | Chat with Albany Archives

We recently went on Facebook Live for a chat and Q&A with Albany Archives from SUNY Plaza (D&H Building). If you missed it, or just want to watch it again, check it out on YouTube or Facebook.
The First Church in Albany Highlighted in Hudson Valley Mag

Hudson Valley Magazine called out The First Church in Albany in an article highlighting sites that "make us proud to be in the Hudson Valley," in part because it is the oldest pulpit in the United States. Learn more.